Special Page for Seniors
David knows you have questions, such as:
Are there ways to keep some money and still "spend down" to qualify for Medicaid? (The answer is YES - and you are not "cheating" - the Government has approved these methods!)

Who will take care of me in the event of an accident or illness?


Can I get the care I need without sacrificing everything I've worked for?


How can I make my own decisions about my future?


How is the Government helping people who plan for their futures?


How can qualifying veterans and their spouses receive up to $24,652 in Tax Free benefits, to help pay for care?
At the Law Offices of David A. Rubin, L.L.C., we have answers for you.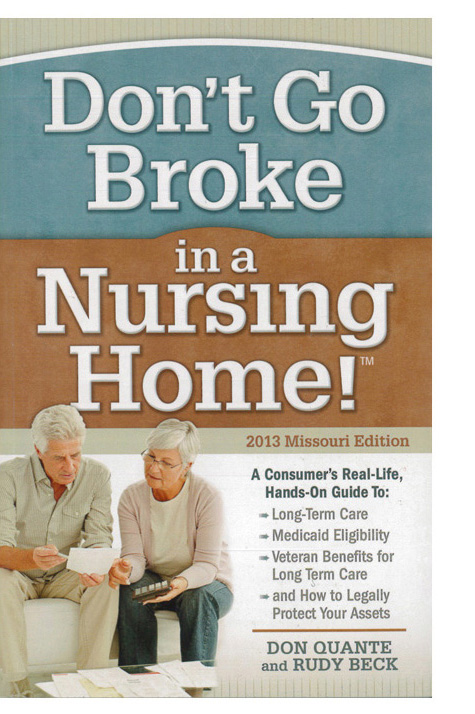 The best place to start is by reading David's friend's book, "Don't Go Broke in a Nursing Home". Don Quante has written an easy to read, plain English, easy to understand, 128 page book, that explains all the basics of planning for your future.
Long Term Care insurance, Annuities, Government Benefits, and other aspects of Elder Law planning are all fully explained.
David recommends that you read this book, to get started. Then, you can have a good quality, educated discussion with your Elder Law attorney, to make a plan that's right for you.
David thinks so highly of his friend Don's book, that he is willing to give it to you for just $5.00 to cover David's shipping and handling. If you are interested in this valuable book - and you should be - then push the button below and pay the $5.00 charge. Your book will arrive within a few days, and many of your questions will be answered. Then, please do call a qualified Elder Law attorney to take the next steps.
It is never too early to plan for your future - but it can get to be TOO LATE! Please act now.
Some people are concerned that some kinds of "Medicaid Spend Down" or other Elder Law planning are unethical, or somehow cheat the government, but nothing can be further from the truth. All of David's recommendations comply fully with State and Federal law. Most importantly, these are some of the only ways to ensure a quality life as you get older.
Here are two examples of how Elder Law planning helped real people:
Example 1.
Mrs. S has a husband with Alzheimer's. He's been in the nursing home for several years and won't get better. He also isn't that old, so he may be around for a long time. Mr. and Mrs. S were smart savers. They saved over a Million Dollars! But Mr. S's care is taking over $100,000 a year. At that rate, Mrs. S was going to spend all of their savings on Mr. S's care, and have nothing left for herself. Eventually, Mr. S would qualify for Medicaid, but by then Mrs. S would be destitute. David and his colleagues were able to put together a package of annuities and other problem solving devices, so that Mr. S can qualify for government assistance now, and Mrs. S can retain the savings she struggled her entire adult life to earn.
Example 2.
Mrs. J has very little. She is now in a nursing home and spending $7000 a month (which is pretty standard). She has about $40,000 from all sources. Mrs. J doesn't expect much. But she has to pay for some prescriptions, and she likes to have her hair done and a nice manicure on occasion. To qualify for Government assistance, Mrs. J would essentially have to spend down to nothing. By "creative problem solving", David and his colleagues will be able to set up a "bucket" of about $15,000 so that Mrs. J will get the nursing home bills paid for, but still have a small "reserve" for the necessities and the "niceties" of life.
As you can see from these two very different examples, no two people will have the same needs. But David and his colleagues will be able to work with you to figure out the exact things you will need going forward and the best way of ensuring you have what you need.
Please contact us when you are ready - and please don't delay.